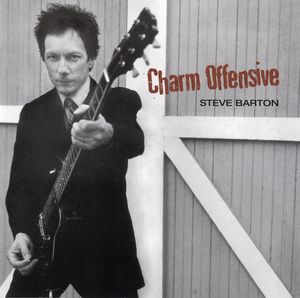 CHARM OFFENSIVE

"WHEN YOU'RE GONE"
A song about saying what you want to say to someone while that someone is still around. This was written very shortly after my mother's death, but I knew I wanted it to be a bashed out joyous rock and roll song, not a maudlin sad song.

"KISS THIS"
Written specifically to be a driving live number, an updated T.A.M.I. Show vibe for this one.

"SHE'S LEAVING HOME"
A cover of the Beatle song from Sgt. Pepper, with my stamp all over it. And a fabulous live number.

"MONUMENT"
A favorite of mine, written one afternoon and recorded on a four-track cassette that same day. That demo remains in my archives, but it was very helpful in developing this arrangement of the song. Ed Stasium's production is particularly beautiful here.

"YOURS TO LOSE"
I wrote this to be a three chord song that anyone could play. The lyrics are very close to the bone, it will take me many years to understand this one. It's a mysterious song for me, but a favorite. Casey Dolan's guitar solo is really quite wonderful.

"TINA FINDS THE SILENCES"
While driving one day, a Talking Heads song came on the radio. Tina Weymouth's bass playing floored me, nearly made me weep. The way she would stop playing at certain times was brilliant. As The Slits, one of my favorite bands from back in the early 80's, said – "silence is a rhythm too". I immediately went home and wrote this song, my band played through it at a rehearsal that same week and it became a staple of our live set.

"SHY"
Written in a Buddy Holly type of style. The production on this harkens back to Beatle albums where the drum set and bass are in one speaker together. I've always wanted to do that on a record.

"NARCOLEPSY BABY"
I told Ed Stasium, my producer, that I wanted "Mick Ronson" guitar tone for this one. I'd been listening to Ziggy Stardust quite a lot and I knew exactly what I was going for. When the guitar kicks in during the bridge, it makes me smile.


"HOLD A SHADOW DOWN"
A deceptively simple song about chasing dreams. "Nothing lasts forever, except these things that never go away" – one of my favorite lines on the record.

"BERTHA JANE"
I wanted a rave up rock and roll song – and this is what I came up with! A true blast to play live. And there a two guitar solos going on at once, a bargain I would say.

"WHAT TREASURES I MAY FIND"
Written very quickly one evening. I was experimenting with alternate tunings on the guitar, which is something I rarely do. This song came out of thin air. The production includes E-Bow guitars and backwards guitars.